Founders Q&A: Our Sustainability Journey, and Why We Started J&L Naturals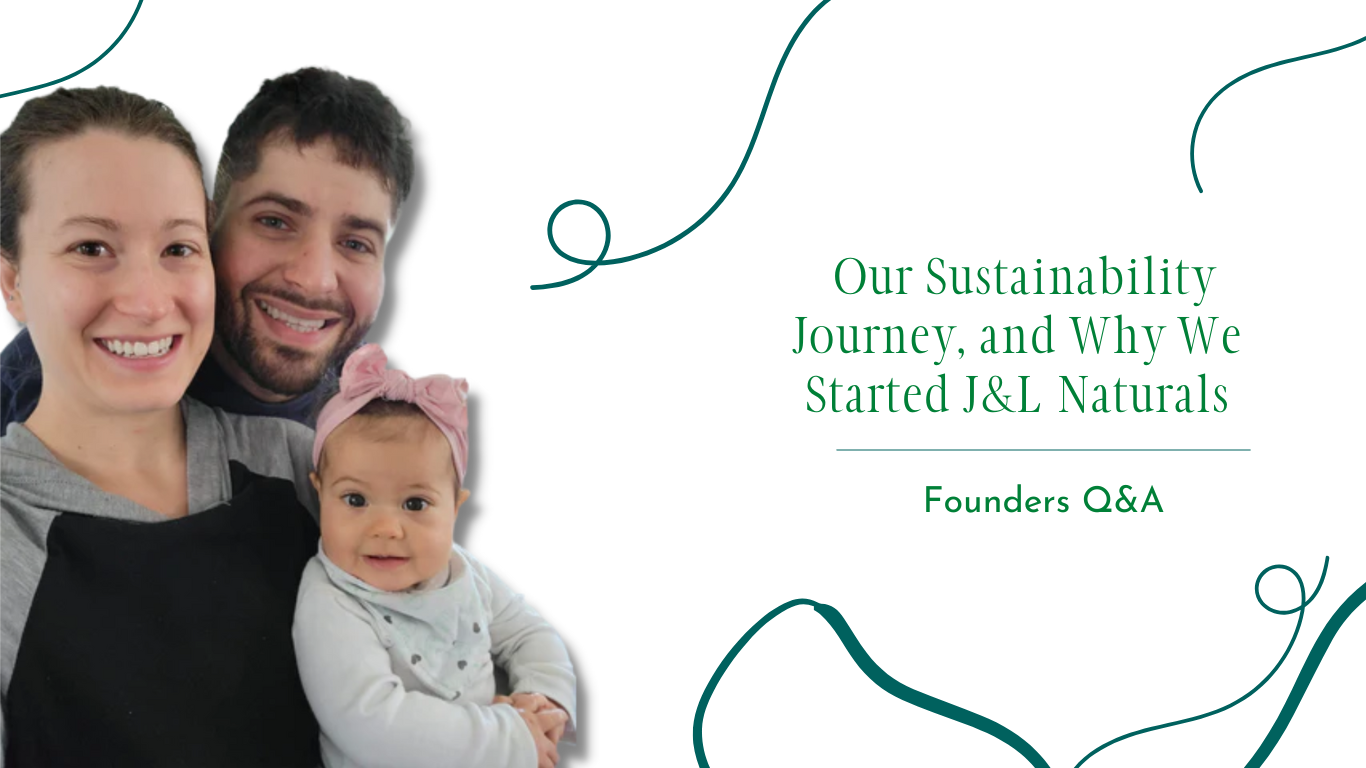 Nowadays, it has never been more important to be mindful of the things we buy and consume — especially with the climate crisis getting worse everyday. After all, shampoo is no longer just shampoo, and soap isn't just soap anymore. They become plastics that end up in landfills, and chemicals that get into rivers and our bodies. Things that were meant to add value to our lives now threaten the very planet we live in.
However, diving into the world of sustainability can be overwhelming and confusing, especially if you don't know where to start or what labels to watch out for. And so J&L Naturals was created for one simple reason: to provide people with a better, simpler, and more sustainable way to shop. Rethinking your everyday essentials, J&L believes that the products we use shouldn't cause any harm to you, the earth, or every other living being that calls it home. Below, we speak with founders Jenn and Laith Salameh to get a first-hand look into their own sustainability journey, and why they started J&L Naturals. 
Hi, Jenn and Laith. How are you? And what's been keeping you busy these days? 
We are doing wonderful! We're so fortunate for everything we have. Life has been so busy lately with balancing our business, personal lives and also Laila (our daughter) who is almost 1 year old now! Things can be quite hectic at times but we try to make the most of every moment because time really can go by so quickly!
Let's dive into your sustainability journey. Have you always been passionate about nature and eco-friendly living? Can you share with us your journey? 
Laith: Even before we started this company, we've always been passionate about nature. You cannot call yourself a true outdoors lover if you don't take the effort to take care of the outdoors, so we took it upon ourselves to be educated about various environmental issues and how we can help preserve the world we enjoy. Aside from that, we strive to live sustainably through simple, everyday activities. This includes composting our household and food waste, avoiding meat when possible, choosing to walk instead of take a car when we can, and of course, supporting other like-minded brands who share the same mission of caring for the earth — be it the neighborhood farmer's market, or the mom-and-pop shop downtown selling handmade clothes. We're certainly not perfect ethical consumers, but we try our best.
You built J&L Naturals from the ground up. Walk us through how the brand started, and where you learned how to create your own skincare. 
Jenn: From an early age, I was very passionate about making beauty products. I remember getting the lip balm and soap making kits from my elementary school book fair and sitting at my kitchen table making them. I ended up going to cosmetology school, which furthered my interest in cosmetics and helped me gain a better understanding of our hair and skin structure. Finally, what really solidified everything are the countless hours of reading, studying, watching videos and learning everything I can about natural products and how they can help people.
We officially started J&L Naturals in 2018, when I got tired of dealing with chronic acne for 15 years. After countless failed attempts to improve my condition using commercial antibiotics and topicals, I felt devastated and decided to try less conventional methods. From there, I fell down a rabbit hole of learning about natural healing. Eventually, I gained a deep understanding of my condition, and how certain natural ingredients could affect it. I ended up creating a natural face salve, and lo and behold — it worked better than anything I had ever tried before. Yes, including expensive serums and medical treatments! 
Laith: Shortly after, I developed a rash on my underarms from deodorants made with harsh chemicals. So Jenn thought to try the same nature-based approach. She did some experimenting and came up with an aluminum-free deodorant, which worked like a miracle! This was our lightbulb moment. Proud of our handmade, natural creations, we began making products for our friends and families too — each according to their unique skin types. But as we began to produce more batches, we noticed another problem: the plastic containers that started to accumulate. We realized that appreciating natural ingredients goes hand in hand with taking care of nature, so we decided to do something about it! J&L Naturals is our way of harnessing the best of nature to help others, while also helping the earth.
How do you decide which ingredients to include in every product? 
Jenn: We choose ingredients according to the purpose of each product we make. We really make sure to be intentional with our selection, making sure to keep the formulation as simple yet hard-working as possible. To us, clean, honest ingredients are the way to go. And from there, we also make sure that it fits into our brand philosophy. So the ingredients always have to be vegan, cruelty-free, gluten-free, sustainably and ethically sourced, and still affordable and accessible to our customers. 
What challenges did you face as you were building J&L Naturals? And what lessons have you learned so far? 
Jenn: In general, it is not easy to build an honest, ethical, and sustainable business. From an economical perspective, it's much more practical to go for conventional packaging, maybe skimp on labor costs, and go for cheap, accessible ingredients. But this is the way most companies have been doing business for far too long, and that's exactly why the earth is in this rut. Change has been a long time coming. Another challenge is getting people to believe in your mission, and convince them why the products they buy matter. Fortunately, sustainable living has been gaining more and more traction, and we're thankful to be part of such a supportive, amazing community. 
Laith: The most important lesson I've learned since starting J&L Naturals is to always ask questions. This applies to not only business but also in our personal lives as well. For example – before J&L, we always tried to opt for sustainable and eco-friendly options, however, we were unaware of certain things like greenwashing and half-hearted attempts at being ethical. Just because someone claims to be sustainable, doesn't mean you should just believe them, because this sort of deceit does nothing for the sustainability movement. Even the smallest questions can help you learn, grow, and see things in a different light.
Why is the conscious and clean beauty movement important to you? And why do you think it's so relevant for our time today?
Jenn: The earth is our home, we all rely on it for survival. We may not realize it all the time, but we're all connected to every living being on the planet — from the trees that keep us shaded, to water in the streams that keep us clean and hydrated. In the past, businesses have gotten away with cutting corners and choosing the cheaper, more economical option — whether that means using non-biodegradable, plastic packaging or simply paying less equitable wages. But with the state of our planet today, it's every business' responsibility to be more environmentally conscious throughout the supply chain, or there will simply be no world left for any of us to enjoy. Beyond that, consumers nowadays are smarter and more responsible too. Studies show that consumers across all generations, from Baby Boomers to Gen Z, are willing to pay more for sustainable products, and will even go out of their way to support brands that share the same values as them. The market is certainly there, so balancing profit and purpose is more than possible, and it has never been more important to do it now. 
Personally, how do you define 'clean' ingredients or 'clean beauty'?
Laith: Truthfully, 'clean beauty' is a very loaded term, as there are no official regulations that constitute what is or isn't 'clean.' As such, any brand can call themselves 'clean' by their own standards. Consumers need to be aware of that, and brands need to be more responsible when using the term. For us, 'clean' simply means we don't include synthetic chemicals and ingredients that could potentially harm your body or the environment — particularly controversial ingredients like parabens, oxybenzone, and phthalates. This isn't to say that chemicals are bad by nature. And just because something is natural, doesn't make it automatically good for you. One example is poison ivy. It's a natural ingredient, but you definitely don't want it on your skin. It is our own preference to rely fully on all-natural ingredients, because we believe in their benefits.
What do you think are some common misconceptions in clean beauty? And sustainability in general?
Jenn: People often get overwhelmed with starting their sustainability journey, because they think it's this 'all-or-nothing' lifestyle. Yes, it's good to be vegan, zero-waste, anti-plastic, etc. However, the reality is that it's hard to be all these things 24/7 — but that doesn't mean you shouldn't try! With the climate crisis, it's easy to get disheartened and think that no effort you do will count. But to save the earth, we believe it's better to have thousands of people making small, imperfect steps towards sustainability, instead of a few people doing it perfectly. So start now, in whatever way you can — whether that's bringing a reusable water bottle to work, investing in a sturdy tote bag, or walking instead of taking a car. 
What steps should every great skincare regimen include?
Laith: Others enjoy the feeling of elaborate 10-step routines and that's great, but it's not a must-have. As long as you have a good foundation of reliable skincare basics, you're on the right track. The basic essentials are a cleanser, moisturizer, and serum (depending on your own needs). At J&L Naturals, we have a great selection of these products — from our Cleanser Bars and Face Salves, to our Skin Serums. Unlike your typical commercial products, these are all made ethically and sustainably, and packed with nourishing, natural ingredients for every skin type. 
What advice would you give to someone starting a sustainable lifestyle?
Laith: We understand that sustainable living can be confusing and overwhelming, especially if you're just starting out. With greenwashing so rampant nowadays, consumers sometimes need to dig a little deeper when researching brands to support. Don't be afraid to ask questions about where they manufacture their products, what ingredients they use, and who is behind their teams. Brands whose hearts are in the right place have nothing to hide! Aside from that, the best advice is simply to do what you can, with the resources you have. 
Jenn: Like we said, sustainable living does not have to be 100% perfect, all-or-nothing. Maybe that means starting with refillable shampoo, or being more mindful when you shop fast fashion. Some people think, "Oh, I can't possibly be sustainable because I still eat meat," or "I can't be sustainable because I still use plastic bags sometimes." Let's face it, it's virtually impossible to be 100% sustainable, but tiny, incremental efforts are way better than nothing at all.