Gua Sha: How to Use and All of the Benefits for Your Skin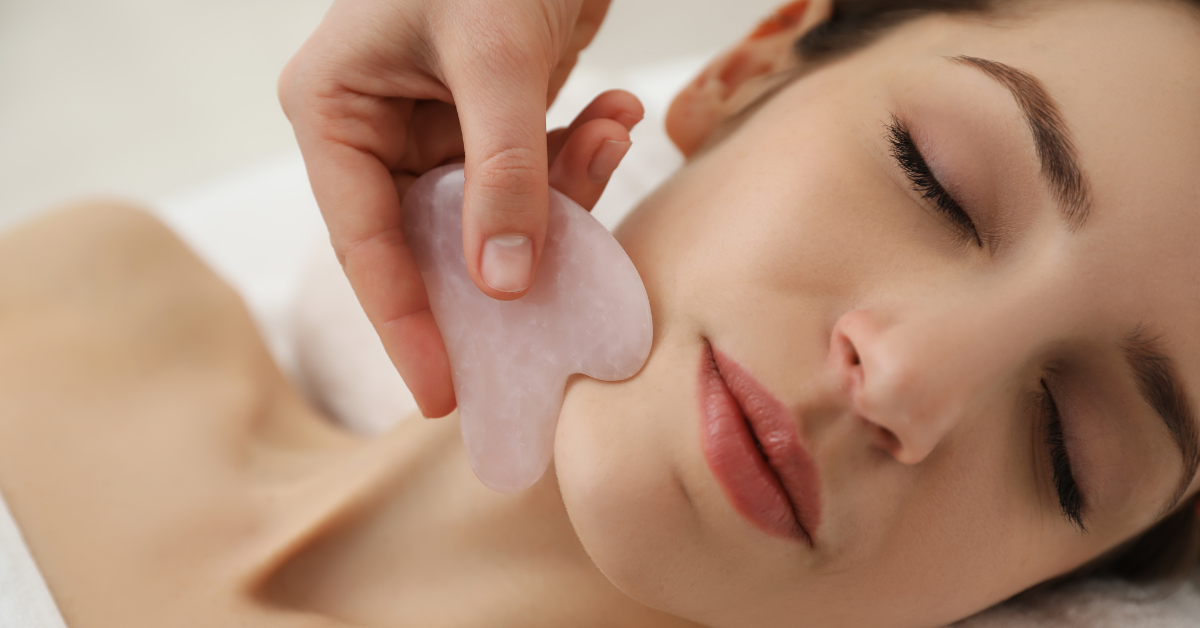 Gua sha started as a traditional Chinese skincare technique and is now a modern-day skincare phenomenon amongst professionals and amateurs alike. This technique is performed using a smooth-edged tool, often made from a stone-like jade or rose quartz, that massages and stimulates the skin as it's dragged across your face or body. 
Gua sha is not only very easy for anyone to learn, but also very cost effective as you only need one small tool—not an array of masks and expensive creams— to feel like you have an at-home spa. Take a look at some of the incredible benefits you can experience from gua sha.
Lymphatic Drainage and Reduction in Puffiness
When moving the gua sha tool, you can release the fluid and toxins trapped under the skin that need to be released to your lymph system. This release reduces puffiness and bloating in your face that might have been caused by the weather, alcohol, a greasy meal, or a bad night of sleep. After the massage, you will likely notice that your skin is brighter and clearer, your face looks more chiseled and lifted, and dark circles have reduced around your eyes.
Relaxed Muscles
A gua sha tool massages your face as you drag it across your skin. This will reduce any muscle tension and can help with addressing minor stress or major stress such as TMJ, jaw clenching issues, and even tension headache relief. Visually, the relaxed muscles may result in the reduction of fine lines and wrinkles.
Improved Circulation
As the gua sha tool is releasing the toxins and fluid to your lymph system, you are also stimulating your blood flow. The pressure and movement from the massage boosts your skin's natural glow and creates a healthier-looking complexion. 
Better Product Absorption 
Using a gua sha tool will allow your favorite oils and creams to penetrate deeper into your pores. This allows you to get a better bang for your buck and utilize as many benefits as possible from every step of your skincare routine.
How to Use a Gua Sha Tool on Your Face
A gua sha tool should not cause bruising or be dragged over dry skin. Apply a liberal amount of facial oil to your skin and watch out for bruising during and after your at-home gua sha treatment. Repeat all steps, except cleansing, 3-5 times per session.
Step 1: Use the cleanser of your choosing to rid your face of any excess sebum and dead skin. Then, apply your favorite facial oil as lubrication for the tool.
Step 2: Hold your tool at a 15-degree angle against your neck, practically flat against your skin, and scrape along your neck in an upward motion from the base of your neck to your jawline. Repeat the same steps on your jawline.
Step 3: Massage your cheeks from the center moving outwards. Follow the natural contours of your cheekbones to make your cheekbones more pronounced.
Step 4: Using the smaller, curved end of a gua tool, glide the tool with little pressure from the inner corners of your eyes to the outer corners of your eyes.
Step 5: Stroke upward and outward across your brows and forehead, smile lines, lips, and hairline.
After completing your gua sha routine, continue with the rest of your skincare routine as the massage will help the products penetrate deeper in your skin.
How to Use a Gua Sha Tool on Your Body
A gua sha body tool will be roughly 3-4 times the size of a gua sha facial tool to accommodate the larger areas of your body. Similarly to how you prepare your face, your body will need to be clean from makeup and other dirt and be prepared with the lubrication of your choosing—body oil, lotion, or cream.
Hold the gua sha tool with a firm grip but not so tightly that someone can't take it out of your hand. Move the gua sha tool at a shallow angle along your muscles or softer areas of your body in the direction of your lymph nodes or in an upwards motion. Repeat every stroke 5-10 times as needed and to your comfort level. If your body responds with pain or excessive redness, move on to another section of your body. When you are finished with the gua sha massage, clean your body of any excess product and apply a hydrating cream to soothe your massaged skin. 
If you like the results, you can safely use a gua sha tool 2-3 times a week, or as often as your skin loves it. If you notice redness, bruising, or irritation, be sure to give your skin more time in between sessions or to try a different tool altogether. After every gua sha massage, you will need to clean all tools with warm water and mild soap and dry thoroughly before placing them back in your beauty storage.
Are you excited to give gua sha a try? Try out our zero-waste eco-friendly gua sha kit made with beech wood! Click here to grab yours now.